The New Colby Community Library
History in the Making: The New Colby Community Library
     Colby, Wisconsin.  Yes, that delicious squeaky-fresh world-famous Colby Cheese was invented here 134 years ago.  Colby has had a library in town for an even longer time–the first library of 57 books was housed in a downtown law office in 1879.  Now, Colby's newest claim to fame is the Colby Community Library (CCL). 
     The new 10,600 square-foot library is the showpiece of our rural farming community in central Wisconsin.  It replaced the former location of Colby's library–a remodeled 2400 square-foot fire hall connected to the Colby City Hall. 
     The offer of a generous donation on December 18, 2015, started making the dream of a new building a reality.  The project was two years (to the day) in duration, including obtaining a site, demolishing an old school building, drawing plans, running a Capital Campaign, constructing, and moving in!  The new Colby Community Library opened its doors on December 18, 2017.
     From the outside, a beautiful but unassuming building with a startling copper-colored steel roof catches one's eye.  A step inside the structure's vestibule brings about a "Wow!" exclamation from nearly 100 percent of visitors as they take in the traditional Craftsman-style touches enhancing and warming the interior of the building. 
    The History Room, housing Wisconsin and local history library materials and items, is the focal point of the building.  Complete with five stained glass windows, a working fireplace (built from re-purposed brick from the 1910 school formerly gracing the site), hand applied original 1930-1960 magazine ads as wall covering, copper colored pressed metal ceiling, and original library furnishings from the early 1900s, it allows patrons to step back in time into a Carnegie-style library room.  Patrons of all ages enjoy the charming atmosphere and historical materials found in this stunning room dedicated to Pearl Vorland (1913-2014), local historian and philanthropist.
     Another unique feature of the CCL is the outdoor programming space.  The library is situated on five acres in the heart of Colby. An amphitheater, in memory of Irene Flink, was built to hold 150 people during library programs, music nights, and theatrical performances.  An adjacent patio/programming area is used for adult and youth "messy" activities such as the making of concrete stepping stones this past summer.  Memorials from the family of Denis Woik have been collected for a gazebo and an artistic rustic metal backdrop for the stage to be constructed in 2019.
     The RCU Community Room, including a full-kitchen, was built to accommodate 200 people.  It is used as a meeting room, an eating space, a classroom, and a playroom.  A projection system, a sound system, and a hearing loop system allow people of all ages to hear and see at events such as movie nights, poetry readings, author talks, and historical presentations.
      The Children's Department includes an area for teens, an early reader section (containing a favorite space with window seats), a play hut with toys/books for our youngest readers, a S.T.E.A.M table with activities, LEGO stations, and a puzzles/games section.  There is also a story time area, complete with a woodland interactive wall mural.  It is not uncommon to hear children say, "But I'm not done yet" or "Can't we stay some more?"  The children's area is definitely a draw for young families.
     The Adult Department is complete with a periodical reading area, thousands of movies, and books of all genres including audio-books.
     The CCL's computer areas expanded in the new building.  Five adult, four youth, and four card catalog computers are housed in handmade craftsman-style furnishings.  They were built to replicate old bank teller stations, complete with frosted glass, pressed tin, and stained glass panels. 
     The new building allows the staff and community to put into practice the new Colby Community Library slogan:  "Remembering the Past–SERVING THE COMMUNITY–Envisioning the Future."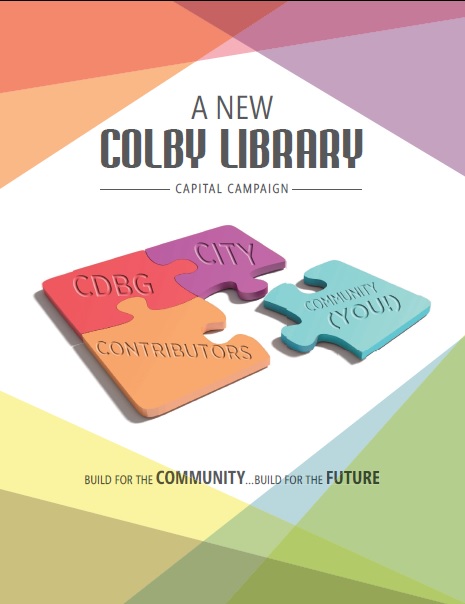 Colby Community Library
505 West Spence Street
Colby, WI 54421
Mailing Address:
P.O. Box 318
Colby, WI 54421-0318
PHONE: 715-223-2000
FAX: 715-223-8178