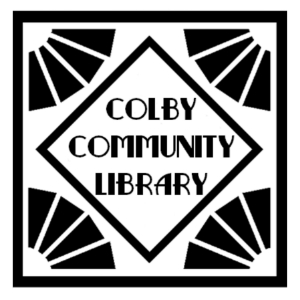 Hours
Mon. 9 am - 5 pm
Tue. Noon - 7 pm
Wed. 9 am - 5 pm
Thurs. Noon - 7 pm
Fri. 9 am - 5 pm
Sat. 9 am - Noon
*Curbside available by request
by Vicky Calmes, Colby Community Library Director
2020 was quite the year, as COVID-19 changed daily life. For me, it brought more reading time.
Here are my (20+20) best fiction reads of the year.
Best Fiction Reads
40. The Book of Two Ways by Jodi Picoult
39. A Good Neighborhood by Therese Anne Fowler
38. Saving Meghan by D.J. Palmer
37. Call Your Daughter Home by Deb Spera
36. Miracle Creek by Angie Kim
35. The Silent Patient by Alex Michaelides
34. The Book of Lost Names by Kristin Harmel
33. The End of Her by Shari Lapena
32. Playing Nice by J.P. Delaney
31. A Life Without Water by Marci Bolden
30. The Red Lotus by Chris Bohjalian
29. The Henna Artist by Alka Joshi
28. The Pull of the Stars by Emma Donoghue
27. The Guardians by John Grisham
26. Dear Edward by Ann Napolitano
25. Akin by Emma Donoghue
24. Darling Rose Gold by Stephanie Wrobel
23. The New Husband by D.J. Palmer
22. The Girls with No Names by Serena Burdick
21. Where I Lost Her by T. Greenwood
20. The Lake Wobegon Virus by Garrison Keillor
19. We Were the Lucky Ones by Georgia Hunter
18. A Single Thread by Tracy Chevalier
17. The Orphan Collector by Ellen Marie Wiseman
16. Don't Look for Me by Wendy Walker
15. Wunderland by Jennifer Cody Epstein
14. Cilka's Journey (The Tattooist of Auschwitz #2) by Heather Morris
13. A Family of Strangers by Emilie Richards
12. The Plum Tree by Ellen Marie Wiseman
11. The Exiles by Christina Baker Kline
10. Thief River Falls by Brian Freeman
9. Paper Wife by Laila Ibrahim
8. The Book Woman of Troublesome Creek by Kim Michele Richardson
7. A Time for Mercy (Jake Brigance #3) by John Grisham
6. Big Lies in a Small Town by Diane Chamberlain
5. Long Bright River by Liz Moore
4. The Dutch Wife by Ellen Keith
3. Home Before Dark by Riley Sager
2. The Boy from the Woods by Harlan Coben
And my number one fiction title for 2020…..
1. A Bad Day for Sunshine (Sunshine Vicram #1) by Darynda Jones 
Additional Fiction
But WAIT, there's MORE! For additional fiction reading enjoyment, try these authors.
Some have written series; others have several stand-alone titles. Books by these authors were also some of my very favorites this year; they definitely would have made the top 40.
Because I read multiples titles by these authors, I didn't include them in 20+20 list but am suggesting you read some of their novels. You won't be disappointed!
• Lisa Regan
• Gregg Olsen
• Rachel Caine
• Linda Castillo
• Jennifer Hiller
Non-Fiction Reads: Top Seven Favorites of 2020
7. Peaceful Persistence: Essays on… by Michael Perry
6. Against Medical Advice by James Patterson
5. Finding Chika: A Little Girl, an Earthquake, and the Making of a Family by Mitch Albom
4. Women's Work: A Reckoning with Work and Home by Megan K. Stack
3. Maid: Hard Work, Low Pay, and a Mother's Will to Survive by Stephanie Land
2. Hill Women: Finding Family and a Way Forward in the Appalachian Mountains by Cassie
And my number one non-fiction title for 2020…
1. Before and After: The Incredible Real-Life Stories of Orphans Who Survived the Tennessee Children's Home Society by Judy Christie and Lisa Wingate